Kratom Kaps has been showing up at different stores now, and customers seem to be quite impressed with the products. The brand claims to provide only the best Kratom, which is all-natural and organic.
However, Kratom Kaps is a wholesaler that does not sell products directly to the customers. You will have to head to third party vendors like head shops, gas stations, and smoke shops to find the products.
We all are aware of the disadvantages associated with buying in-store and finding reliable suppliers. So, is Kratom Kaps worth your attention and money, or is it just another average head shop brand?
Let's find out.
Kratom's Origin

Let's talk a little about Kratom's origin before diving into a deep discussion on Kratom Kaps Bali. Known as the 'Southeast Asian herb', Kratom is obtained from the leaves of the Mitragyna Speciosa trees found in Southeast Asian regions.
The growing conditions in these regions are perfect for the Mitragyna Speciosa trees and provide top-quality Kratom. The veins of these Kratom leaves can be obtained in different colors and each color has a unique alkaloid profile. Furthermore, different regions of Southeast Asia provide varying growing conditions. This leads to the growth of unique strains such as Bali Kratom, Borneo Kratom, and so on. Today, we're going to talk about Kratom Kaps Bali – Bali Kratom that is provided by Kratom Kaps.
Kratom Kaps Review

Kratom Kaps is a well-known Kratom brand that has made giant strides in the Kratom market in recent years. They are based in California and are known as a wholesale Kratom brand. This means that they only provide Kratom to other suppliers and customers can't buy Kratom from them directly.
Kratom Kaps is known to provide a wide range of authentic Mitragyna speciosa. 
There are many Kratom vendors in the market today, but not all of them sell good-quality products. On the other hand, Kratom Kaps brands itself as the highest quality available on the market, sourced from Southeast Asia.
Nevertheless, not all brands stay true to their words, and it can be quite tricky to find the best suppliers of Kratom. So, we will break down Kratom Kaps to give you a better idea of what the brand has to offer.
The Kratom Kaps Website
Few reviews about Kratom Kaps mention that this brand also has a website! However, as mentioned before, customers can't buy Kratom from this website and it's only a means of getting familiar with this particular vendor.
The website is very user friendly and has a list of all the Kratom strains that this vendor has to offer. Customers can also find the information available on how to contact Kratom Kaps from their website.
Who is Kratom Kaps?
It is a California-based Kratom brand that has not been around for a very long time. However, the company has already built a stable place among the top head shop brands due to their excellent packaging and affordable prices.
The brand claims to source the Kratom plant from its origin, Southeast Asia. The brand does not offer an extensive product range. It mainly focuses on selling various sizes of their main Kratom strains.
It should be underlined that Kratom Kaps is not a direct supplier, and you can only get its products from authorized distributors. So, you'll have to dig a little to find stores that work with the company.
The brand does have an official online website that is easy to navigate. Since the brand works with other distributors to sell products, the shipping policy depends upon the affiliated seller.
Kratom Products Offered by Kratom Kaps
The brand focuses on the major Kratom strains and offers them in a variety of sizes. The website currently offers Kratom powder and Kratom capsules. The brand mentions the vein color on the packaging.
The four strains available on the website are: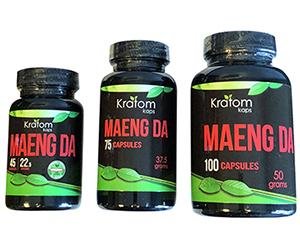 According to the brand, all its products go through multiple tests before a batch is available to the market.
However, even if the products are of high quality, there is an involvement of third-party distributors. So, the quality can be compromised in their hands.
The Price Range of Their Products
Came to this Kratom Kaps review to find out about the prices offered by this vendor? Well, you'll be pleased to know that Kratom Kaps is famous for offering economical prices to its customers. However, since they don't sell Kratom directly to customers, buyers will find varying prices for their Kratom available at different shops.
That being said, they do offer a suggested retail price for each of their products on their website. It's recommended to compare the prices offered by other vendors to this list before buying their products. The recommended prices are:
Bali Powder: $7.99 (35g) – $17.99 (100g)
Bali Capsules: $12.49 (45 caps) – $19.99 (100 caps)
Indo Powder: $17.99 (50g)
Indo Capsules: $5.99 (20 caps) – $10.99 (40 caps)
Malay Powder: $7.99 (35g) – $17.99 (100g)
Malay Capsules: $12.49 (45 caps) – $19.99 (100 caps)
Maeng Da Powder: $7.49 (35g) – $16.99 (100g)
Maeng Da Capsules: $11.99 (45 caps) – $17.99 (100 caps)
Kratom Kaps Bali Kratom – Their Leading Kratom Variety

Now then, what is Kratom Kaps Bali Kratom? Simply put, it's one of the Kratom strains offered for sale by Kratom Kaps. This particular Kratom strain is sourced from the Southeast Asian island of Bali, which is known for its rainforests and humid climates.
The reason Kratom Kaps Bali Kratom is so popular is due to the extremely low price associated with good-quality Bali Kratom. To create Kratom Kaps Bali, only Red-veined Bali Kratom leaves are used. These leaves are known to provide the highest concentration of Kratom alkaloids. Most experienced Kratom buyers are aware of the fact that good-quality Bali Kratom is easily available hence, the prices for it are also lower. The same is the case with Kratom Kaps Bali Kratom.
How to Make Sure You Get Authentic Kratom Kaps Bali
Since customers have to purchase Kratom Kaps Bali from other authorized vendors, they have to do a little bit of research. But no worries! Finding authentic Kratom Kaps Bali isn't too hard and we're going to provide you with some tips to help you out!
First of all, always make sure your Kratom Kaps Bali is sourced directly from the Bali region in Indonesia. Doing so ensures that you are getting authentic Kratom Kaps Bali. Secondly, try and inquire about the purity and freshness of the Kratom. The fresher your Kratom Kaps Bali is, the better!
Finally, make it a habit to only buy Kratom Kaps Bali or any other Kratom variety from reliable vendors. Thousands of brands are providing Kratom today and while many of these are reliable, there are a certain number of faulty vendors taking advantage of Kratom buyers! Hence, customers should do their research before choosing what vendor to buy from.
Online Feedback About Kratom Kaps?

The online feedback about Kratom Kaps products and services generally looked positive. Customer reviews revealed that buyers were generally satisfied and content with the brand. A glance at Reddit Kratom also tells that the brand can be safely considered as a reliable kratom brand.
Some of the kratom buyers had talked about their products being pricey but at the same time, they talked high about their overall quality and service.
If you want to buy authentic kratom at the best price, sourced directly from the best kratom farms of Indonesia, consider buying from a reliable online Kratom vendor like Buy Kratom bulk USA that offers high-quality and pure Kratom. We are also easily reachable and responsive if you have any further questions.
Are Kratom Kaps Products Authentic?
The authenticity of their products can be judged by the customer reviews offered by customers on different Kratom forums such as the Reddit Kratom community. Kratom Kaps customers always have positive things to say about the quality of their products. It's no wonder that so many Kratom buyers are searching for reviews about Kratom Kaps!
Not only that but Kratom Kaps also ensures customers that all their products go through several quality checks before being offered to customers.
How Can You Contact Kratom Kaps?
Wondering how you can contact Kratom Kaps? There aren't too many ways to do this and some Kratom buyers end up frustrated as they are unable to find a way to do this. However, two successful methods can be used to contact Kratom Kaps.
The first method is to contact them via their online form. All you have to do is fill out the form, send it to them, and wait for your reply. If you want a more instant reply, just contact Kratom Kaps via their phone number that is: (310)-438-7129.
Liked This Kratom Kaps Review?

Got all the information you need on Kratom Kaps in this Kratom Kaps review? Why not find out about another top vendor in the Kratom industry that sells Kratom directly to its customers? Yep, we're talking about us right here at Buy Kratom Bulk USA!
We source all our Kratom products directly from the farmers in Southeast Asia. This process ensures that all our products are fresh and authentic. Furthermore, the prices that we offer are some of the lowest in the industry. So, don't wait and order Kratom from us now!
Interested in more Kratom brand reviews? Check out the 'Choice Kratom' and 'Red Devil Kratom' reviews in our Kratom blog!
Where to Find The Very Best Quality Kratom?
Right here. Visit Buy Kratom Bulk USA website to find the best quality kratom available in all the strains and colors.