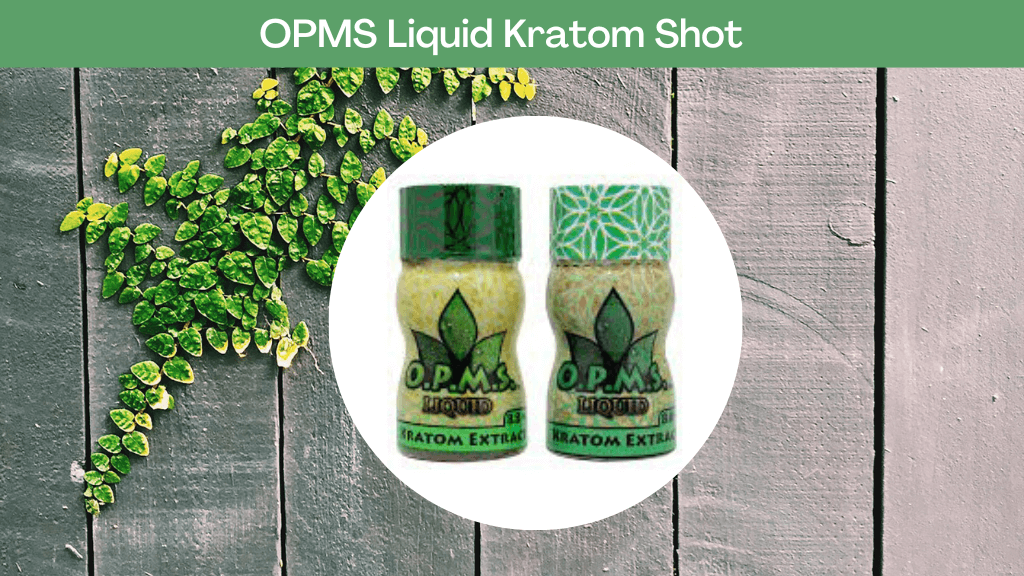 OPMS may be one of the most popular brands in the kratom market. The reason for this is that you can find them in many smoke shops, vape shops, and tobacco shops. This company only works with wholesalers. OPMS does not sell directly to customers. So, if you want to try an OPMS liquid kratom shot, you will have to find a vendor who offers this brand. 
Who Is O.P.M.S? – The Company
O.P.M.S. is an acronym for Organically Purified Mitragyna Speciosa. This brand is headquartered in Atlanta, GA, and made its debut in 2009. As we mentioned above, this brand chose a different path than other companies. They do not work with retail customers and only sell to vendors.
OPMS is all about supplying vendors with organic kratom products. Their most popular is their OPMS liquid kratom shots. This brand uses a unique cold process extraction process, which sets them apart from other kratom brands that offer liquid forms of kratom. Below we will explore the OPMS kratom product line. 
OPMS Offical Product Line:
Gold Capsules – Offered in 2 packs, 3 packs, and 5 packs. 

Gold Extract Shots – Offered in 8oz bottles and 48 bottles come in a display box. 

Black Capsules – Also offered in 2 packs, 3 packs, and 5 packs. 

Black Extract Shots – 8oz bottles with 48 bottles offered in a display box. 

Silver Capsules – You can find these in bags and blister packs. They are offered in larger quantities. They have several strains to choose from and you can buy them in 16, 32, or 64-count boxes. Or larger quantities are offered in bags: 16, 30, 60, 120, 240, and 480 counts. 
OPMS Kratom Strains
Unlike other kratom vendors, OPMS is very limited in the strains that they do offer. Here are the kratom strains that you can find in the OPMS brand.
What Exactly Is A Kratom Shot?
A kratom shop is a liquid extract and not all vendors will offer them. This form of kratom tends to be more pricy than kratom powders and kratom capsules. So, a lot of vendors will only focus on products that will move quickly. There is a lot more manufacturing that goes into making liquid kratom, and this is the main reason for the higher costs. 
All kratom shots are created with Mitragyna Speciosa leaves. The way alkaloids will vary from one vendor to the next. However, OPMS is the only vendor to offer a unique cold process extraction process. The mixture will be dissolved in hot water and then rapidly cooled down to extract the alkaloids from the water. Lastly, the mixture will be filtered and this is how they gain access to a rich and pure extract. 
Kratom shots can also be infused with several other ingredients, but this will all depend on the manufacturer and what they are trying to accomplish. Some users have gone as far as comparing kratom shots to 5-hour energy drinks. They do come in similar bottles, but this is where the comparison stops. 
Shots are a single dose, which makes it even pricier. They will contain high levels of mitragynine. Be sure that you always read the ingredients, because you need to be aware of anything the manufacturer is adding to their shot. Most kratom products are 100% organic but manufacturers are known to include ingredients when making kratom shots. 
As always, we ask all of our customers to consult with their family physician before purchasing any kratom product. Your doctor will be able to discuss strains and dosing. If kratom is not right for you, your doctor will be able to recommend a supplement that can help with your wellness goals. 
Does OPMS Kratom Use Synthetic Ingredients?
You only want to work with brands and vendors who offer lab testing on their kratom products. This will ensure you are getting 100% all-natural Mitragyna Speciosa. OPMS is a part of the American Kratom Association, which means they lab test and adhere to all GMP regulations. So, no, they do not use any synthetic ingredients. However, this is something you need to be aware of and check with every vendor before making a purchase. 
Vendors Who Offer OPMS Liquid Kratom Shots
You will need to locate a retailer that offers OPMS liquid kratom Shots because this company does not sell directly to consumers. You will find this brand in much local smoke, tobacco, and vape shops. Buying OPMS Liquid Kratom Shots locally will not be an issue. You may even see them in gas stations and convenience stores. Below are a few vendors who regularly stock OPMS Liquid Kratom Shots. 
ACID CANNA & KRATOM
Acid Canna & Kratom  offers the following OPMS products: Black OPMS liquid Kratom shots: 1 shot $18.99, 2 shots $35.99, 5 shots $84.99, 10 shots $149.99, 20 shots $279.99, 45 shots $599.99, or 90 shots $1,124.99. They also offer Gold OPMS kratom shots and OPMS kratom capsules. 
KURES
Kures offers OPMS liquid kratom shots for $15 each. If you are a wholesaler, they do offer bigger discounts. In addition to shots, this vendor also offers OPMS capsules. 
VAPEO2
VapeO2 has OPMS liquid kratom shots in single bottles for $16.95. The more you buy, the more you can save – 5 shots $79.00, 10 shots $145, 45 shots $600. VapeO2 also offers OPMS capsules. 
SMOKEY SHAY'S
Smokey Shay's has a variety of products including OPMS Gold Liquid Kratom Shots for $18.99. You will also find OPMS capsules in a variety of sizes.  
BUYOPMS.COM 
This vendor supplies customers with Gold and Black Kratom Shots. Black runs for $16.95 and Gold costs $15.95. You will have to contact them to see if they offer bulk discounts. 
OPMS Shot Product Information
Each shot will be housed in a small hourglass-shaped bottle that contains 8.8ml of liquid kratom extract. The bottle will have shrink wrap around it to help it tightly stay sealed and avoid any leaks. Be sure this shrink wrap is still intact at the time you purchase it. 
Avid users would agree that kratom shots should only be used by those who have some experience with kratom prior. It's a liquid, so it will naturally kick in quicker than powders and capsules. 
OPMS Liquid Kratom Extract (8.8 mL)
Mitragynine Content: 95mg

7-OH mitragynine Content: 4mg
OPMS Black Liquid Kratom Extract Shot (8.8 mL)
Mitragynine Content 48% – 180mg 

7-OH-Mitragynine Content -<2.2% – <8mg
Buy With Us Today!
We have a huge variety of strains for you to choose from. However, we do only offer kratom powder and kratom capsules. These are the most popular forms of kratom. You will find we have strains across all 4 vein colors including red, green, white, and yellow. If you have any questions when shopping do not hesitate to reach out to us. We do offer bulk discounts, so the more you buy the more you can save!