Over the last few years, many new kratom brands have popped up out from nowhere, gained attention, and then faded away. The stores that don't last long often have one common fatal flaw—an opportunist origin. Typically, the owners of these businesses were inspired by the growing market trends, not researching kratom to offer the best products. 
The competition from reputable companies is stiff—the best kratom vendors have the necessary knowledge about kratom and its sales to offer the best quality kratom for reasonable prices. Is Urban Ice Organics one of these top kratom quality vendors? They certainly have a bold presence on social media. Are they worth the hype?
To find out, we examined the company, its product line, customer satisfaction, and overall reliability. Let's break it down.
What is Urban Ice Organics Kratom? The Company at a Glance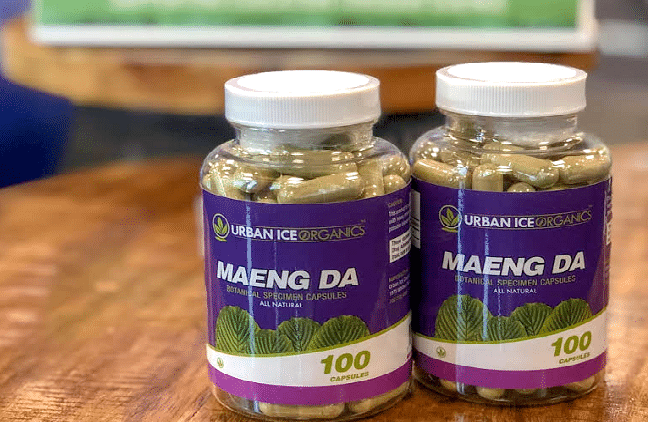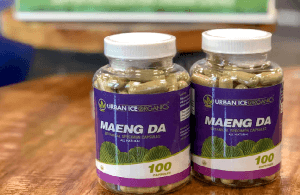 Looking at their website, Urban Ice Organics (which many refer to as "Urban Ice Kratom") does not have a lot of information listed about their company. Their "Our Story" and "Team" sections both say "Coming Soon." It seems like these sections have been empty for a while, but time is scientifically relative, so maybe they'll get around to it shortly after this review.
Since Urban Ice Organics doesn't share its birthday with the world, we checked their website's domain age and found that the company has been in business since 2012, at least online.
In spite of lacking biographical information, a cursory look at the website makes it clear that the company knows a thing or two about providing kratom. The website functions well, the product categories are succinct, and you can tell they put time into their design and user interface. Even more importantly, they provide an "Articles" section of their website dedicated to providing kratom information to customers.
The website has a sports/energy/fitness vibe to it, which stands out against competitors. They clearly know what they're up against, so it seems likely that their product quality standards should be high. 
A key finding that supports this is that the American Kratom Association (AKA) lists Urban Ice Organics as a participant in the AKA GMP Standards Program, which requires kratom vendors to commit to high-level manufacturing process standards.
To become AKA GMP Qualified Vendors, participants must complete an annual independent 3rd party audit to ensure their compliance with the program standards. Upon verification of the audit, they are considered as AKA GMP Qualified.
Overall, Urban Ice Organics gives off a pretty good first impression. Now, let's examine the quality and variety of their kratom for sale.
What Does Urban Ice Organics Kratom Offer?
Urban Ice Organics Kratom has a limited range of kratom powders and capsules. However, on the brighter side, the company offers kratom extract along with kratom capsules and powders, and some other more unique infused kratom products.
Their line of kratom powder includes the following: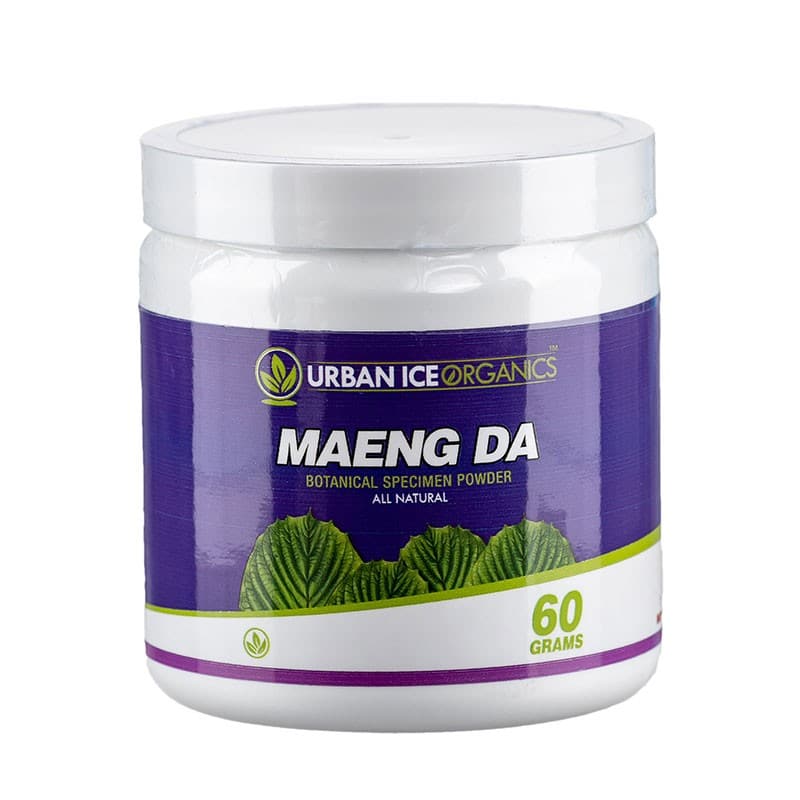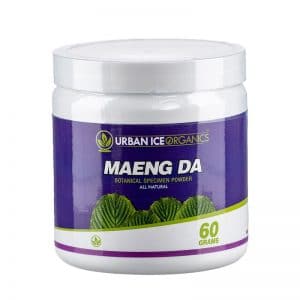 Maeng Da Kratom

Red Vein Kratom

Kilo Mix & Match by Indoleaf

CBD Infused Kratom powder

Indoleaf white vein kratom

Indoleaf red vein kratom

Indoleaf green vein kratom

Indoleaf infused kratom
Similarly, their line of capsules includes:
Their line of liquid kratom includes:
Red Vein Extract Oil
Maeng Da Extract Oil

Pomegranate super tea

CBD Infused tinctures
Their range of kratom capsules seems rather small, but the company may expand its selection. It seems to establish itself as more of a specialty kratom store rather than a kratom vendor that offers a full selection. This is often a good sign—when a company specializes in a few products, they tend to focus on quality. That being said, this isn't always the case (see our OPMS Kratom Review).
Even though the Urban Ice Organics Kratom range of powders and capsules is limited, the fact that the company sells liquid kratom (kratom extract) is notable. Since extracts are relatively harder to find, this is one of the biggest pros of this vendor. 
Urban Ice Organics Product Prices
Compared to the average price of kratom products, Urban Ice Organics Kratom's prices are slightly on the expensive side.
They sell 30g of kratom powder for $12.99, 100g for $34.99, 250g for $49.99, and 1 kilo (1,000g) for $129.99.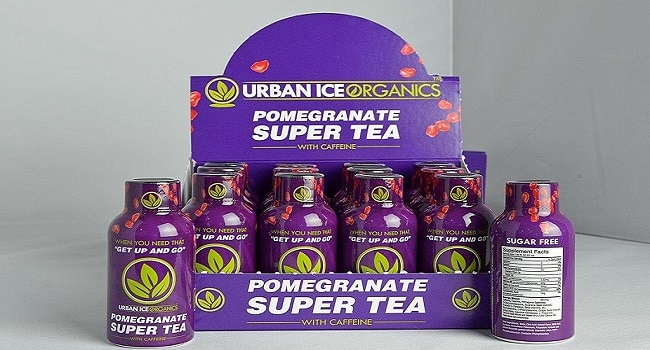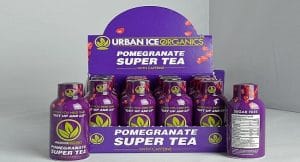 Typically, you can expect to pay around $32.99 for 60 grams of kratom powder, so their prices are slightly expensive if you buy a smaller amount of kratom.
It is good to see that Urban Ice Organics is consistent in their prices, which is something to look for in well-established and reliable kratom vendors.
Other reliable wholesale brands such as 'Buy Kratom Bulk USA' sell kratom powders at $20 per 100 grams, which is in line with the industry standards. So, if you are looking for cheap kratom that also has a high quality, 'Buy Kratom Bulk USA' is a better option for non-infused kratom products.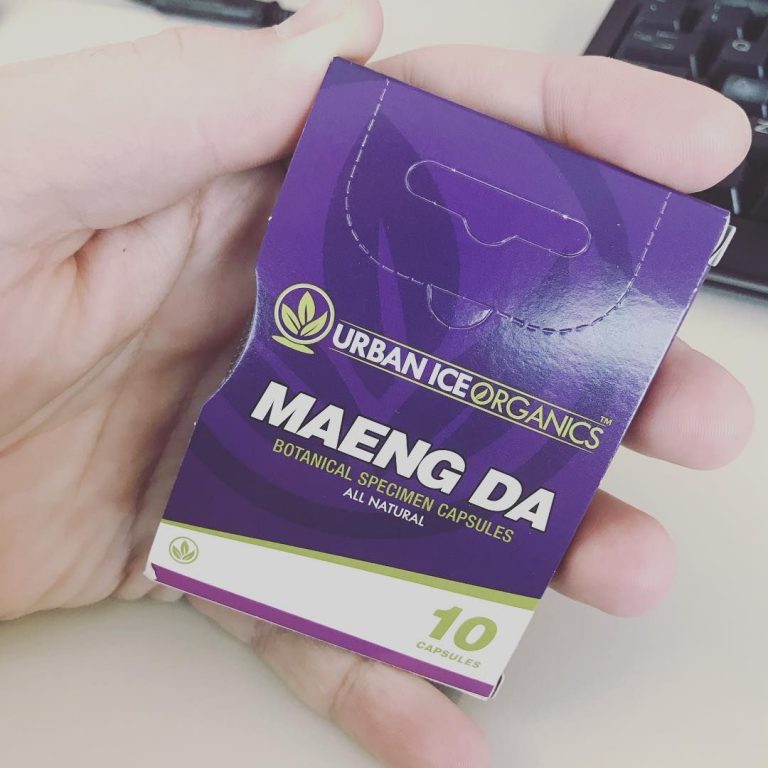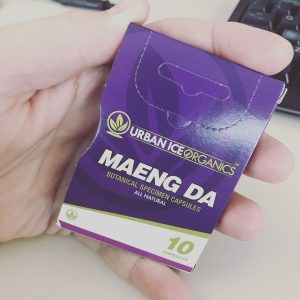 With Urban Ice, many may find that their higher price is worth it. First off, Urban Ice Organics offers a unique monthly kratom subscription service that costs $99.99 every month. Very few kratom brands offer such subscription options, which certain customers may find convenient.
Second, their product packaging is of high quality; it can keep the product fresh for longer periods of time. In addition, the product packaging looks appealing and seems to provide adequate information so the customer knows exactly what they're buying.
Last but not least, they have a very quick delivery time—it typically takes only 2-3 days for orders to process and ship. This is superior to many other kratom vendors.
This combination of qualities has allowed Urban Ice to find itself listed among the best kratom vendors.
Does it Have Public Lab Test Reports?
The company claims to have a very thorough quality control process and very strict standards; at least, that is what it looks like from the outside considering their eye-catching packaging and all.
But can you take their word for it? After thorough research, we figured out that the company does not have any public lab tests on its website. We find this surprising, but after placing a test order, we quickly received the kratom and examined its quality. Although we cannot access the lab tests directly online, it appears that they most likely conduct some form of lab testing. The brand seems to be an authentic and genuine kratom vendor.
What do The Customers Say?
To find out more about Urban Ice Organics Kratom, we spent hours on forums and kratom communities such as Reddit. A slight majority of the online reviews are fully positive, with a number of negative reviews in the mix. The most common complaints are that the products are overpriced and overrated.
The company has a rating of A- from the better business bureau. Of their three complaints in the last 12 months, they took care of two.
On their website, the majority of the brand's reviews are all 5 stars. Customers seem to enjoy the quick shipping and the quality of the kratom. That being said, remember to always look closely at a company's reviews to determine if they're legitimate. Urban Ice Kratom reviews seem to be valid, but there's never a guaranteed way to verify if the reviewer actually purchased the product.
Overall, Urban Ice Organics has a decently sized customer following.
The Bottom Line
There is no doubt that Urban Ice Organics Kratom is a solid kratom brand. It seems like a great place to buy kratom if you're looking for a kratom subscription, fast shipping, or unique product offerings.
However, it is important to note that Urban Ice Organics is not a place to buy cheap kratom powders or capsules, and it doesn't offer a large variety of kratom strains and products. If you are looking for cheap kratom for sale in more strains, greater freshness, and affordable bulk amounts, there are better places to buy kratom out there. 
One alternate option is to buy from the best kratom wholesalers online, such as Buy Kratom Bulk USA. We offer some of the best kratom for sale at cheap prices.


Furthermore, we offer a much wider range of kratom strains for sale, in wholesale kratom powders and wholesale kratom capsules. 
If you liked our review and want to learn more about kratom vendors, behind-the-scenes industry info, and more, check out our kratom blog to stay up-to-tabs.