Kratom originally comes from the tropical Southeast Asian regions including Indonesia, Myanmar, Papua New Guinea, and Thailand. Countries such as Indonesia specifically produce a wide variety of green-veined Kratom and red vein kratom. At the same time, Thailand is particularly famous for its white vein kratom varieties.
Every kratom strain is distinguished by a particular color. The most common of these are red, white, and green. However, some rare colors such as gold and yellow are also available at select stores such as 'Buy Kratom Bulk USA'.
If you are a new kratom enthusiast who is looking to buy kratom, you will end up overwhelmed due to the big number of options. This is because the Kratom universe is quite vast. Apart from the three basic colors, there are several strains available. Some stores mix different amounts of strains to create unique blends with very distinct properties.
So, for a new connoisseur, Green Kratom may be a good option. We are not the only ones who say this, many kratom veterans have the same opinion.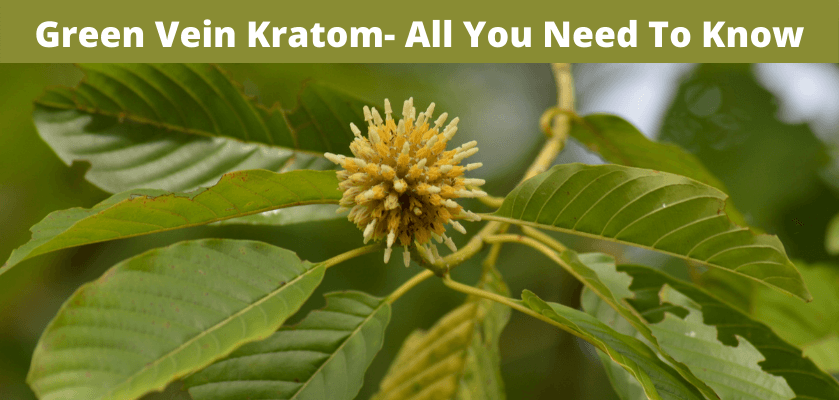 What is Green Vein Kratom?
What is Green-veined kratom after all? It is one of the three major types of kratom commonly available in the market.
Just like all varieties of kratom, Green kratom powder also comes from the kratom leaves that are crushed after their drying phase. However, the primary difference here lies in harvesting.
During the harvesting of Green-Veined Kratom, farmers carefully pick out leaves that have green-colored veins. However, not all green vein leaves are fit to be included in a batch. This is because depending on the maturity level of the plant, the leaf has a particular composition of alkaloids. Once it continues to mature, this composition naturally gets altered.
This means that green kratom leaves have to be picked at a very specific time during the lifecycle of the kratom plant. Otherwise, they lose all their freshness and quality. While this sounds tricky, experienced farmers can tell the difference easily.
Once the leaves have been picked, green kratom is then dried using a distinct method. Firstly, the leaves are dried indoors without any light. After that, they are minimally exposed to sunlight. This results in a very characteristic quality.
In comparison, other kratom color varieties have slightly different drying processes. In these, variables such as fermentation and UV-light exposure are manipulated to achieve the desired quality.
Different Types of Green Veined Kratom
Every Green Veined kratom strain has certain common properties. However, all green vein strains come with their own set of characteristics that make them unique. In this section, we discuss various popular varieties of Green Kratom.
Green Bali Kratom
Green Bali Kratom is hard to obtain and has a very limited number of farms. However, these farms produce high-end products of great quality. Hence, it is the purest strain of Green Veined Kratom that you can find in the market.
It is avidly grown in Bunut, a region in Brunei. For Green Bali Kratom powder, farmers pick the leaves very carefully at a precise time (as soon as the leaves have achieved the right balance of freshness and composition).
Green Maeng Da Kratom
For many kratom enthusiasts, Green Maeng Da Kratom is the best kratom strain in the market. It is a blend of 20% white vein kratom and 80% green vein kratom. Most of it comes from Bunut in Indonesia and is often of high quality. Though, the quality primarily depends on the store where you buy it from.
Well-reputed vendors such as 'Buy Kratom Bulk USA' have the best quality Maeng Da Kratom that is sourced from top farms in Indonesia.
Green Brunei Kratom
Just like Maeng Da Kratom, Green Brunei Kratom is not a strain on its own. Rather, it is a blend of 20% white kratom and 80% green kratom. However, the prime difference here is that Green Brunei has a higher percentage of alkaloids in comparison to Maeng Da Kratom.
In comparison to other kratom strains, this one is slightly rare. Hence, Kratom capsules with Green Brunei kratom powder often tend to be more expensive.
Green Hulu Kapuas
This kratom strain comes from Kapuas Hulu in Indonesia. It is a 100% pure variety of green vein kratom that is harvested carefully and then processed using distinct methods. This results in great quality.
Just like the Green Brunei Kratom, the Green Hulu Kapuas is also relatively rare. Hence, it is available at some selected stores only.
Where to Buy Green Kratom from?
While many kratom vendors have green-veined kratom for sale, not all of them are reliable. To avoid scams and to receive some genuine products, we suggest you buy green kratom from reliable vendors only.
'Buy Kratom Bulk USA' is one such store that offers you a wide variety of Green kratom that includes:
All of our products have been sourced directly from the best kratom farms in Southeast Asia. So, we guarantee that you will receive 100% authentic kratom powders and capsules.
To learn more about kratom, scroll through the other posts on our Kratom blog.