Indeed, it is hard to impress the seasoned kratom connoisseurs. However, well-reputed kratom vendors know how to influence the masses. This is something that Inland Botanicals seems to be adept at. After all, this brand has managed to gain a huge cult following in the kratom business. Today, they have thousands of loyal customers that are specifically drawn to their proprietary blends. Surprisingly enough, their loyalists will rarely buy kratom from another well-reputed store.
Ever since Kratom came into the limelight, this herb has remained surrounded with unnecessary controversy. Amidst all the misinformation being spread by tycoons in the medical industry, we at 'Buy kratom Bulk USA' consider it our sole responsibility to guide new kratom enthusiasts the right way. Hence, we are bringing another honest and insightful kratom brand review for you today. This Inland Botanicals review probes thoroughly into the brand's products, their quality, prices, and overall reputation.
A Little About Inland Botanicals

Operating form Corpus Christi, Inland Botanicals is a Texas-based kratom brand that specializes in several proprietary blends. While they are not the cheapest kratom vendors in the scene, they are 100% committed to providing top-notch quality and fresh products to the real kratom enthusiasts.
Apart from kratom, they also deal in detox packs, and body bars. In this regard, they can be considered as a full-blown herb brand and not just a regular kratom store.
What Do Inland Botanicals Offer?
While researching for this Inland Botanicals review, our first step was to visit the brand's official website. We were particularly surprised (in a good way) by the website layout and interactive design. Unlike many other kratom brands, Inland Botanicals has a very intuitive website that is designed to leave an excellent impression of serious kratom enthusiasts.
Their product line has a wide variety of kratom strains stocked up. These include the following: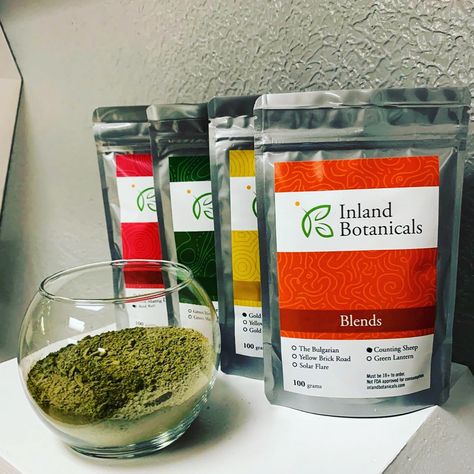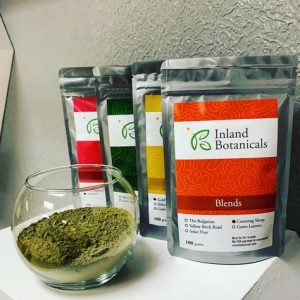 Though, they are more popular for their proprietary kratom blends that include Green Lantern, Yellow Brick Road, Counting Sheep, and Solar Flare. Among these, the Yellow Brick Road is a combination of yellow, gold, and green leaves whereas the Solar Flare blends white, gold, and red leaves. At the same time, the Bulgarian blend is a combination of Red, Green, and White Maeng Da Kratom along with a secret strain.
However, they are often out of stock on several classic strains (according to customers on Reddit). If they do not have any kratom strain that you are looking for, you may have to consider alternative options.
Overall, there is no doubt that Inland Botanical is a master of blends. This is what every Inland Botanical review by customers suggests.
Price of Inland Botanicals Products
While writing this Inland Botanicals review, we took a close look at their prices. One interesting observation was that their kratom packs start as small as 10 grams. These cost $4 (for most of the strains). It is particularly good for new kratom buyers who do not know what they want. These packs go up to 1 KG that costs $120 which is the industry average price.
On the other hand, the blends begin at a very fair price-point of $4.5 for 10 grams. These go up to $145 for 1 KG kratom powder.
Though, they do not seem to sell kratom capsules. So, if you are looking for capsules, you will have to rely on another well-reputed brand.
Inland Botanicals Review
Almost every Inland Botanicals review on the internet is positive. Some customers have particularly been very happy with their service. Furthermore, their proactive customer support has received the most appreciation. Though, at the same time, some customers complain about the slightly higher prices.
Overall, most customers on the internet seem to have a positive experience with this brand. Customer satisfaction is their highest priority.
Bottom Line
In comparison to other kratom vendors in the market, their prices are a few bucks higher. However, their quality control and customer service are excellent. Hence, most people do not hesitate to pay a few more bucks for as long as they know they'll get a top-notch product.
However, Inland Botanicals is not the only popular brand that has kratom for sale. Several other brands offer the same quality at a slightly lower price-point. So, if you're not willing to pay the few extra bucks, you will have to look at an alternate option.
If you want to check out personally, here is their website link. As a more convenient option, you can browse through our in-house kratom strains for a much more comprehensive kratom collection.
Kratom Blogs
If you want to read more such kratom brand reviews, we suggest you visit our kratom blog section. We always advice our customers to never spend money on their branded kratom before reading accurate and honest reviews about them.