If you weren't aware, the popular headshop kratom vendor Vivazen has notoriously survived bad news headlines, Reddit Vivazen kratom experiences, legal problems, and mixed reviews. You may want to know how Vivazen Kratom is doing in 2022.
How has Vivazen managed to bounce back when vendors like Kratom Crazy have shut down after experiencing federal forfeiture and legal measures? Is Vivazen a good kratom vendor whose image has suffered from fraudulent Vivazen products on the market? Have they improved to become a good kratom vendor in 2022? Or does a kratom vendor like Vivazen harm the reputation of the kratom community?
Find out everything you need to know about the company's past, products, reputation, customer reviews, and future outlook in our Vivazen kratom review.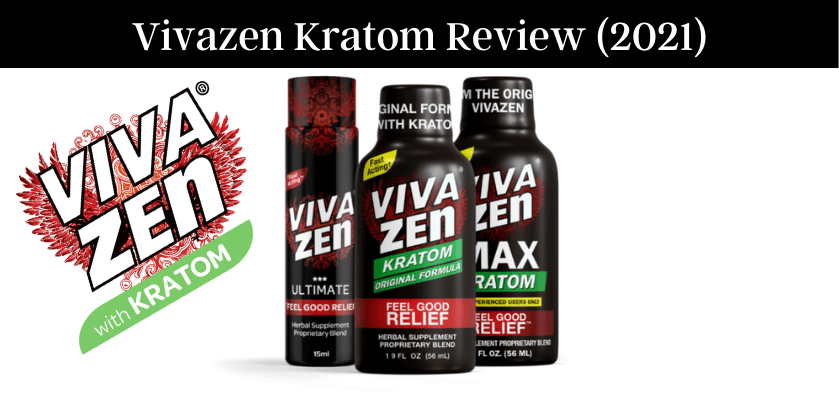 What Is Vivazen Kratom? The Company at a Glance
Vivazen is a kratom vendor that sells liquid kratom to headshops and other retailers, as well as directly to customers online on its website. Vivazen is best known for its liquid kratom shots, which also contain other botanical ingredients in the formula.
We couldn't find much information on Vivazen's history in online kratom reviews or on their website. Nor could we find information on when Vivazen first launched or where it was originally headquartered. We can, however, find a link to Joe Rogan's podcast on their website.
Vivazen lists two office locations for customers to contact, one in South Jordan and the other in Northern Ireland.
Vivazen's Product Line
Vivazen currently sells a small range of kratom products, which are described as "made in the USA in FDA and GCMP compliant facilities" and "Scientifically evaluated for safety."
As of 2021, Vivazen currently sells three liquid kratom shots:
Vivazen Original: The original and #1 selling liquid kratom shot In the US
Vivazen Max: 2x extra strength formula
Vivazen Ultimate: 3x strength liquid kratom concentrate
According to the company's website, three liquid kratom shots differ in their concentrations. The Original contains two servings of liquid kratom, Viavzen Max contains four servings of liquid kratom, and Vivazen Ultimate contains a 3X strength concentrated liquid kratom extract.
Vivazen's kratom shots contain a list of other herbal extracts besides Mitragyna Speciosa Leaf Extract, including Willow Bark Extract, Boswellia Serrata Resin Extract, and Passion Flower Aerial Part Extract, as well as other ingredients. They claim that their proprietary extraction process maximizes bio-availability, creating a "powerful experience, unmatched by any competitors."
We are not sure what studies are on file for Vivazen to back some of the statements on their website, but perhaps they would respond to customer inquiries.
Timeline of Vivazen's History – Notable Events
Is Vivazen legit? There are some concerns you may have about the authenticity of Vivazen. Since Vivazen's brand name has appeared in numerous controversial posts over the years, let's take a look at the internet history attached to "Vivazen" to learn more.
2015
In 2015, following an onslaught of media that portrayed kratom in a bad light, Vivazen removed kratom from its list of ingredients in its herbal products. This move was made following the FDA's import alert on kratom. At some point, they returned to selling kratom shots, and are currently still selling them.
Before it removed Mitragyna speciosa extract from its formula, Vivazen's response to its negative press appeared in a news article that called Vivazen's safety into question. The company defended their product, stating, "Ensuring the safety of our products for our users is Vivazen's top priority. We employ several scientists and toxicologists that see to that every day."
2019
Vivazen Botanicals (not the same company as Vivazen) was reviewed in a toxicology study after a 54-year old man had suffered a hemorrhagic stroke from using their adulterated Maeng Da Kratom. Vivazen Botanicals's Maeng Da Kratom was adulterated with phenylethylamine (PEA), which it did not list on its label.
The 54-year old man was sensitive to PEA and should not have used it—yet how would he know if it weren't on the label? Vivazen Botanicals took their product down after complaints that it was "too potent", but it didn't undo the damage they inflicted on their customers who suffered side effects from Vivazen Botanical's products.
Unfortunately for Vivazen, some people became afraid of the potential side effects of Vivazen's kratom shots. Although Vivazen itself was a victim of fraudulent companies who sold adulterated kratom, it would continually be conflated with the company in various Vivazen reviews that lumped the two together.
2020
In 2020, Vivazen sued Bliss Nutraceuticals LLC for trademark infringement. Bliss Nutraceuticals had copied the names of Vivazen's kratom shots. The lawsuit also named Vivazen Botanicals LLC (the same imitator from the toxicology report), which is allegedly a company that is organized to sell imitation products.
According to speciosa.org, "The popularity of Vivazen has apparently led other companies to emulate its success, albeit illegally, according to United Naturals, the maker of Vivazen. The company filed a legal complaint against LXR Biotech and Capital Sales Company in the U.S. district court for the Eastern District of Michigan, accusing the companies of illegally manufacturing and distributing counterfeit Vivazen products."
Finding the evidence and tracking down fraudulent companies is tricky, so it's best to use caution if looking for Vivazen brand kratom.
Making Sense of Vivazen: Our Thoughts
Overall, you will find all kinds of mixed reviews for Vivazen kratom online on kratom Reddit threads and other forums, with reviews ranging from calling Vivazen excellent to horrible and everything in between. Here at Buy Kratom Bulk USA, we don't really have enough evidence to distinguish the legit Vivazen reviews from reviewers who purchased fraudulent Vivazen.
Ultimately, this entire case supports the need for kratom regulation. As an unregulated herb, kratom vendors aren't subject to the quality control standards that the FDA requires from companies that sell other products. Some sketchy kratom vendors end up on the market and kratom companies struggle to be transparent with customers.
We wouldn't say that Vivazen is on our list of the best kratom vendors. To be honest, not only are studies on kratom are lacking, but there aren't tons of studies on many other unregulated botanicals. Any time you have a list of ingredients that contain things besides Mitragyna speciosa, you really can't be sure how they will interact. After all, there are no studies.
Buy Authentic, Lab-Tested Kratom
If you want to buy kratom without the risk, check out our kratom for sale at Buy Kratom Bulk USA. We don't offer kratom shots or extracts, but we can attest to the quality of our kratom powders and capsules.
We source our kratom directly from Indonesian farmers, so there's no mystery there. You won't have to wonder what's in our kratom either—we conduct lab tests and only use pure kratom in our ingredients.
We encourage all users looking to buy kratom to use caution and do their research. Even if you're not concerned with lab tests, supporting reliable kratom vendors is important if we want to improve kratom laws by looking at the facts and science.