New Dawn Kratom is an online kratom vendor that has already caused a stir in the kratom community. Despite having only been around for a year, the New Dawn Kratom company has already appeared on several lists as one of the best kratom vendors in 2021.
There aren't many New Dawn Kratom reviews online, and some of them were written only a month after New Dawn began selling kratom. Having written many kratom vendor reviews, we've seen new kratom companies kick off strong only to run into quality control issues and other problems down the road. 
It's important not to get too hype too fast about a new kratom vendor, and there are some pretty mixed New Dawn Kratom reviews in 2022. Now that it's been a year since they started selling kratom, we've decided to examine the pros and cons of New Dawn Kratom to determine if it truly is one of the best places to buy kratom right now—or if the hype is unwarranted.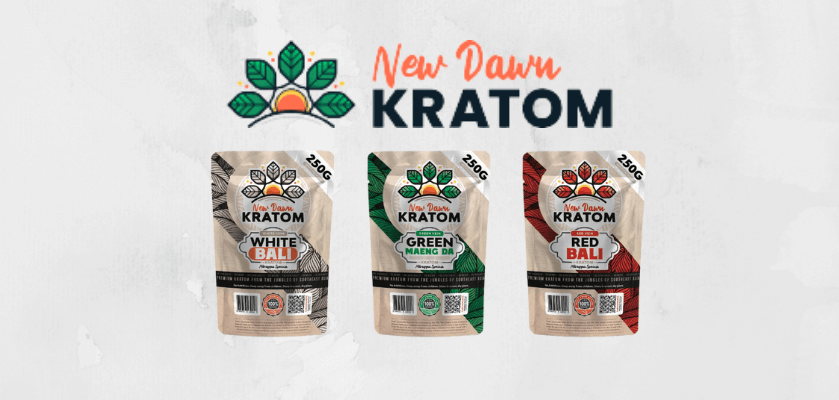 What Is New Dawn Kratom? The Company At a Glance
New Dawn Kratom is a new kratom vendor that launched in January 2021. They gained recognition almost immediately for their relatively low kratom prices and positive customer support reviews. 
Whether intentional or not, New Dawn Kratom's timing was exceptionally opportune. They opened right when Coastline Kratom and Kratom Crazy shut down due to legal issues. Unable to buy kratom from their go-to vendors, some of these customers flocked to New Dawn Kratom. 
Interestingly, only ten days after they opened, New Dawn kratom appeared in an article, "Best Kratom Vendors On Reddit" published on January 10, 2021 (less than a month after NDK opened). The article listed three vendors: 1. New Dawn Kratom, 2. Kratom Crazy, and 3. Coastline Kratom. The latter two companies were sister companies, and would both be shut down in 2021, leaving New Dawn Kratom 
Although a new company, New Dawn Kratom is a popular vendor of discussion on Reddit kratom threads, such as r/Vendorsofkratom. As the company does not have a ton of information up on their website, customers have received more information from the co-founder of New Dawn Kratom, Vladimir, via his Reddit user account "u/New-Dawn-Kratom".
New Dawn Kratom Prices and Product Line
If you're looking to buy kratom powders and kratom capsules online, NDK has a pretty good selection of available kratom strains. Their website states that their kratom is "100% organic, naturally grown, and thoroughly tested for purity."
Here are some of the bestselling kratom strains for sale at New Dawn Kratom:
White Thai Kratom

White Borneo Kratom

Green Malay Kratom

Green Maeng Da Kratom

Yellow Vietnam Kratom

Red Bali Kratom

Red Borneo Kratom

Red Thai Kratom

Red Dragon Kratom

Red Horn Kratom
We like that they have substantial descriptions of their kratom strains on their website. However, we did come across some myths about kratom strains, which we would recommend being corrected to follow the science.
You can select kratom powder or kratom capsules in a variety of quantities. Here are some of the kratom products prices at New Dawn Kratom:
250g kratom powder: $19.00

250-count kratom capsules: $19.00

500g kratom powder: ​​$39.00

500-count kratom capsules: $39.00

1000g kratom powder (1 kilo): $79.00

1000-count kratom capsules (1 kilo): $79.00
Overall, it's great to see consistent pricing at NDK. When you consider that the average cost of kratom online is $46.00 for a 250g kratom powder, New Dawn Kratom's prices look really good. They're even better if you access New Dawn Kratom coupon codes.
What's even more impressive is that their kratom capsule prices are the same as their powdered kratom. The average cost of kratom capsules for sale online is $35.75 for 60-count. You could buy four times as many kratom capsules at New Dawn Kratom for cheaper. 
Due to their prices, you might wonder, Is New Dawn Kratom legit? How can they offer such cheap kratom capsules for sale?
New Dawn Kratom Reputation
Now that New Dawn Kratom has been up and running for a year, we might be able to shed some light on its quality. In the beginning, New Dawn Kratom had almost entirely positive reviews. Right out of the gate, people began calling it "the best kratom vendor of 2021."
On their website, New Dawn Kratom still has mostly 5-star reviews. On Reddit, one reviewer summed up New Dawn Kratom in the following statement:
"They are definitely high quality…The bags are very sleek and reseal really well. They almost have a matte texture/feel to them. So, the presentation is good, although that's not really important IMO. Also, the shipping is extremely fast, you'll get your package in 2-3 days. They give you a tracking number and it's easy to track your package from start to finish. The owner's name is Vladimir and he's very responsive and generous."
Many other reviews echo this claim. Vladimir, the co-founder, introduced himself to Reddit to address customer concerns about NDK when they started to arise. Given the vendor's dedication to customer service, this is a nice gesture that Reddit seemed to appreciate. Even negative New Dawn Kratom reviews typically voiced appreciation for Vlad's customer service:
"Found this post on the way trying to find Vlad's username so I could ask… but ordered about 12 different strains during the black Friday sale and so far, it's been extremely bad. Not relevant to the post I guess though but FYI. I got in contact and Vlad was very understanding and worked with me"
Unfortunately, Vlad's reputation on Reddit went downhill when a customer requested lab tests from New Dawn Kratom. The user said that Vlad kept responding that he would deliver the lab test results soon after launching the new NDK website design, but according to the Reddit user, eight months passed and Vlad never sent the lab test reports.
Is New Dawn Kratom Legit? What's The Deal?
Reddit users in r/Vendorsofkratom have recently become confused by NDK. Some suspect New Dawn Kratom reviews online to be fake. We cannot say for certain if they are or not, but we did find one review from a person using a stock photo.
One NDK reviewer on Reddit voiced the following theory two months ago:
"Was new to kratom, read a couple glowing reviews, didn't check post histories or age of accounts, spent money, and got a shite product. Had to take ten gs to feel. Learned about shills, and incentives, vendors trading product for good reviews and name dropping."
The same Reddit user had left a positive review for New Dawn Kratom six months ago:
"Kilos $79 and the coupon of 15% off it's like $63. And that's for the red horn. YOU CANNOT BEAT IT."
Similarly, another Reddit reviewer had given positive reviews for NDK, stating five months ago, "it's not bunk. It's quality kratom for an unbeatable price." Then two months later, the same user said, "I'm just too sketched out, I won't be purchasing anymore kratom from New Dawn."
Whether or not the quality of New Dawn Kratom dropped or not, we can't be certain. There are still good reviews for NDK online and on Reddit.
New Dawn Kratom: The Final Verdict
Initially, New Dawn Kratom seemed to check out. We weren't convinced that they're one of the best kratom vendors—we're not sure how someone could claim that when they were less than a year old. We're not saying that their kratom isn't good either. All we're saying is that we wish that they would step in to clear up this confusion.  
It didn't help their case that we did come across some sketchy New Dawn Kratom reviews online, including one written by a guy with a fake profile pic on a kratom blog that has no other links besides New Dawn Kratom's website. (Vlad, wherever you are, come back to Reddit… help us out—we can update our review).
The kratom industry suffers from sketchy vendors, but it suffers worse from those who don't read the laws.
Other Places to Buy Kratom for Low Prices 
If you want to find other places to buy cheap kratom, check out our guide: How to Buy Cheap Kratom—That's Good Quality in our kratom blog. 
You can also buy kratom from us for high-quality Mitragyna speciosa and low prices. We strive to achieve customer transparency—we rigorously lab test our kratom, which is sourced directly from farmers in Indonesia.