If you buy Kratom for sale regularly, you've probably heard of Asia Kratom, haven't you? Well, most of the Kratom buyers don't know if this particular strain really exists. The good news is, you can purchase it on Buy Kratom Bulk USA at affordable rates.
But for those who don't know about this breed, these lines are for you.
Asia Kratom is one of the top Kratom strains available at Buy Kratom Bulk USA among the different strains of Kratom. The reason it's so high on demand is it's among the rarest Kratom strains you can find anywhere in the world. Not too many people knew about it a few years ago.
Thanks to the online Kratom vendors such as Buy Kratom Bulk USA, new and rare strains are surfacing as more and more people have started to recognize Kratom. But the question remains, why is Asia Kratom so rare?
That's because this strain is grown on a few farms in a limited volume. These farms are located in the forest of Sekadau Regency, a scenic beauty located in the province of West Kalimantan, an Indonesian section of the Borneo Islands.
Asia Kratom growers prefer limited harvesting as they fear overharvesting will affect the long-term sustainability of their trees. Furthermore, the growers prefer taking care of the existing trees rather than overburdening themselves with more trees; hence, the rarity.
Now, let's talk about different product forms of Asia Kratom.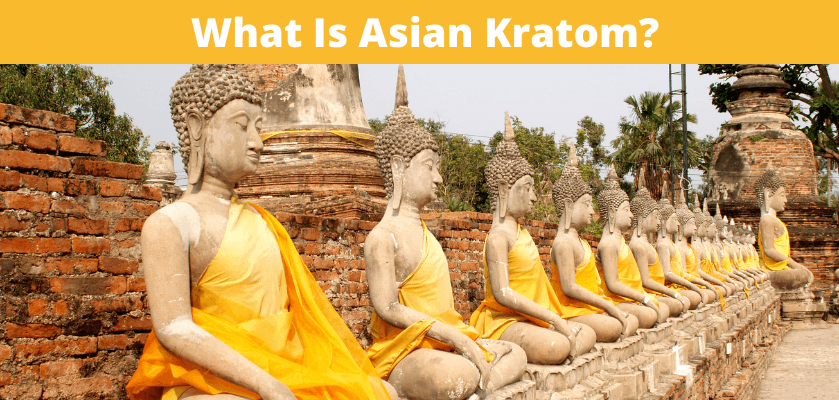 Asia Kratom Powder at Buy Kratom Bulk USA
At Buy Kratom Bulk USA, we don't compromise on the quality of Kratom powder. We take pride in providing the finest grind free from impurities and contamination.
We also put each batch of Kratom to test. After getting approval from 3rd party labs, we move these strains for further processing.
Based on the Kratom colors, we offer three different variants of the Asia Kratom powder:
Let's explore more about these strains and what they have to offer.
Green Asia Kratom
As said, Asia Kratom is among the rarest strains. Harvesters target carefully nip off Green vein leaves that comprise the purest Mitragynine and 7-hydroxymitragynine. These two ingredients are available in high concentration levels, signifying that the leaf is young and has negligible impurities.
The Green Asia Kratom powder gets sufficient sunlight that doesn't affect its color and alkaloids' composition. We get this Kratom strain from trusted suppliers, with no tolerance for grind quality.
You can buy a minimum of 100g at $20. If you want to save more, increase the quantity. For example, on 500g, you only have to pay $60 which is a savings of $40. On bulk Kratom purchases, you can save even more. Plus, you'll get free shipping within the US on orders worth $150 or more.
Red Asia Kratom
Red Asia Kratom powder is extracted from the leaves that have red veins. This indicates that the Kratom leaves have reached maturity. This means not only you'll get a high level of alkaloids, but flavonoids as well – a popular combination among regular Kratom buyers.
Even then, we make sure not to hype up the price. You can get 100g of Red Asia powder for $20. If you want to buy 500 grams, you'll save $25. Even better; Buy 1kg Red Asia powder for just $140 and save $60!
White Asia Kratom
The White Kratom strain is the transition point when the Kratom leaves' veins turn from Green to Red. Still, the leaves bear no stems. White Asia Kratom powder features a balanced concentration of ingredients, mainly flavonoids, and alkaloids, but it's not similar to that of the Red Kratom.
This concentration of alkaloids favors beginners and new users. Buy Kratom Bulk USA considers newcomers equally and makes sure it stocks sufficient quantities of white Asia Kratom for them.
The price range is similar to that of Red Asia powder. If you want to save the shipping cost, place an order of $150 or more. Bonus! Local buyers can get same-day shipping.
Asia Kratom Capsules at Buy Kratom Bulk USA
For those looking for a different form of kratom, you can buy Asia Kratom capsules. Encapsulated Kratom is gaining popularity among new Kratom users, and here are a few reasons:
Kratom capsules contain calculated amounts of alkaloids.
They are easier to carry, especially if you're traveling.
The capsule shell protects the ingredients from contamination, so you always get the purest form.
Because of its high popularity, Asia Kratom is available in Red, White, and Green veins. Keep reading to know about each capsule below:
Red Asia Capsules
Red Asia capsules are formulated from the red strains of Asia Kratom. Red veins indicate that the leaf contains an optimized level of alkaloids and flavonoids. Therefore, regular Kratom buyers buy more Red Asia capsules.
Red Asia capsules start from $60 with the minimum weightage of 250g (+/- 10 g) locked inside approximately 500 capsules. You can buy up to 1000g (2000 capsules) at $195.
White Asia Capsules
White Asia capsules contain the ingredients of white-veined Asia Kratom leaves. Therefore, these capsules are popular among new Kratom users. White Asia capsules contain a high level of alkaloids.
Green Asia Capsules
If you're new to Kratom, Green Asia capsules are meant for you. Although the yield is not plentiful, these contain the purest form of alkaloids. The capsule shell is made from non-harmful ingredients.
The starting price of 250 g (500 capsules approx.) is $60, but you can purchase up to 1000 grams to avail of the highest discount.
Why Buy from Buy Kratom Bulk USA
Asia Kratom is the rarest Kratom strain. At Buy Kratom Bulk USA, we source these strains from mature trees grown in a small region of Borneo Island. Asia Kratom is available in powdered or capsule forms and is available in three colors.
Although this strain is quite rare, we keep our stocks full according to our clients' needs. We also ensure each product of Buy Kratom Bulk USA gives standard-meeting quality and satisfaction. To do that, we make sure all batches go through lab testing.
Buy Kratom Bulk USA offers unique discounts on bulk purchases. Whether you're the end-user or Kratom wholesaler/retailer, you can maximize your savings by buying more from us. Moreover, we offer local clients free shipping on orders of $150 or more.
Want to learn more about Kratom? Visit the Kratom Blog.