Kratom is gaining in popularity across the nation, and Columbus is no exception. There are a variety of places to buy kratom in Columbus if you know where to look. These places tend to be popular with regulars, have great customer service, and of course, offer a large selection of quality kratom. Here are our picks for some of the best places to buy kratom in Columbus, Ohio.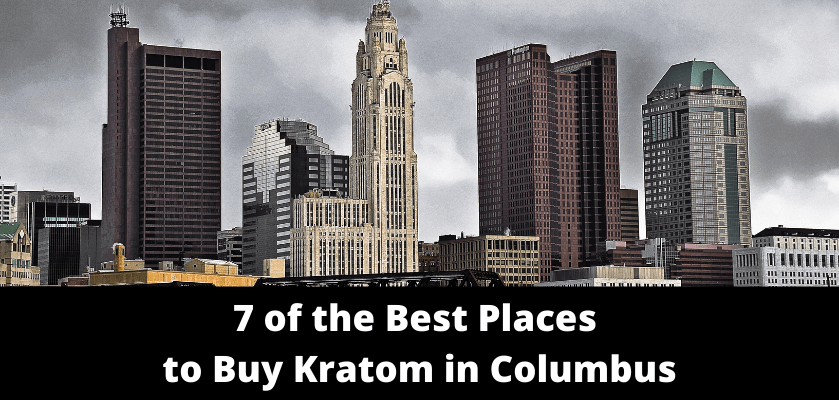 Kratom Shops in Columbus
You can buy kratom in many different places around Columbus, from tobacco shops to smoke shops to vape shops. Each may have a different selection and specialize in other products as well.
#1 Miracle Kratom
Address: 3643 W Broad St, Columbus, OH 43228
Google Rating: 4.9
Miracle Kratom is one of the most popular places in the city to buy kratom – and for good reason. They carry over 40 strains of kratom including the most popular white, green, and red strains along with some special blends and yellow strains that are more difficult to find. Their kratom selection is also top quality and it's all lab-tested so they have the documentation to back it up. Their kratom is imported from Indonesia and their prices are incredibly reasonable. To top that all off, their staff knows a lot about the products they sell and are very helpful so you can be sure to find what you're looking for.
#2 Centuries Harvest Kratom
Address: 3602 E Main St, Whitehall, OH 43213
Google Rating: 4.9
Centuries Harvest Kratom is a store that specializes in kratom, so you're likely to find even some hard-to-find strains here. The primary goal of those who work in this store is to provide knowledgeable service that helps you feel comfortable and lets you leave satisfied with your experience. All of this can be yours for a reasonable price, too, which is important when looking for a local store that can be your go-to.
#3 Brice Park Kratom Store
Address: 6351 Tussing Rd, Reynoldsburg, OH 43068
Google Rating: 3.9
Brice Park Kratom Store carries a wide variety of not just kratom, but many other things as well including pipes, vapes, and tobacco. They have a fairly large selection of kratom here as well, but the customer service can be spotty. This may be a place that carries your favorite strain of kratom at a reasonable price and if it's close to home, then that's even better, but the customer service offered here may not always be as consistent as some other places on this list.
#4 Life of Kratom
Address: 2398 N High St, Columbus, OH 43202
Google Rating: 4.7
You can find a fantastic selection of your favorite white, red, and green kratom strains at Life Kratom, including a few signature blends, offered only at this store. If you go into this store without being completely sure what you need or want, the employees will happily answer your questions and help guide you through the process of choosing something that suits your needs. Their kratom is high in quality and the staff knows what they're talking about, which is why we had to include it on this list.
#5 The Joint on High
Address: 1186 N High St, Columbus, OH 43201
Google Rating: 4.6
The Joint on High has an impressive selection of kratom for their customers to choose from. Their kratom is all lab-tested so you know you're getting safe, quality, pure kratom when buying from this store. They also have friendly and reliable customer service, which is why people rate this shop so highly and return time and again. While it may be true that they cost a little more than some other kratom stores in town, you truly are getting what you pay for here when it comes to product and experience.
#6 New Life Kratom
Address: 1896 Slaton Ct, Columbus, OH 43235
Google Rating: 5.0
New Life Kratom is a store that specializes in kratom, so you shouldn't be surprised to find a very exciting selection of kratom here. Their customer service is as high in quality as their kratom, too, with employees that know their products and can help to make great recommendations. Plus, they have incredibly reasonable prices that are competitive in the city, so it's a place that should be on your radar to try out.
#7 Smoke Zone Smoke Shop
Address: 1202 N High St, Columbus, OH 43201
Google Rating: 4.5
The Smoke Zone Shop is a vape shop that also carries a great selection of kratom, among other products such as CBD and Delta 8. People love coming here because the service is spectacular, and they can help you to work within your budget when it comes to finding kratom you can afford. It's definitely worth a visit when trying to find a kratom shop that suits all your needs.
Other Shops
You may want to try these other great kratom shops in the Columbus area:
Vapor Maven Vape, CBD, & Kratom Store – 1345 Worthington Centre Dr, Columbus, OH 43085

Smoke Shop – 1895 Sullivant Ave, Columbus, OH 43223

Lockbourne Smoke Shop – 1730 Lockbourne Rd # B, Columbus, OH 43207

Columbus Tobacco & Vape & CBD &Delta8 & Kratom – 2516 Bethel Rd, Columbus, OH 43220

AM Smoke Shop – 2500 Clime Rd, Columbus, OH 43223

First Choice Kratom – 6521 E Livingston Ave, Reynoldsburg, OH 43068

High Up Head Shop – 1434 N High St, Columbus, OH 43201

Shatter House Smoke Shop – 1216 Parsons Ave, Columbus, OH 43206

Hippie Hut Smoke Shop – 1551 N High St, Columbus, OH 43201
Is Kratom Legal in Columbus?
Kratom is legal on the federal level, but it's been left up to individual states to determine if they want to make it legal for their citizens to buy and possess. Luckily, Ohio is one of the states where it's legal to buy and possess kratom, including in major cities such as Columbus.
If you enjoy kratom, then you should make sure to stay on top of any bills that could impact its legality in Ohio in the future. You can follow along with the American Kratom Association to help lobby to keep kratom safe and legal where you live.
Buying Kratom Online
There are so many great places to buy kratom in Columbus, but you shouldn't count out buying kratom online, either. There are several reasons why it may be advantageous to you to buy from reputable online vendors such as Oasis Kratom.
Probably one of the biggest advantages to buying online is price. Online vendors don't have to run storefronts, so they don't have the costs associated with it. They can take those savings and pass them directly onto the consumer, which is why you may notice that kratom available online is a lot more affordable than kratom bought in a local store.
Another big advantage is quality. Vendors who are affiliated with the American Kratom Association, like Oasis Kratom, lab-test all of their kratom for quality, safety, and purity. It's free from contaminants and packaged in accordance with GMP guidelines – and that's not something you can find from just any vendor.
At the end of the day, where you choose to buy kratom in Columbus is a highly personal choice. But remember, Oasis Kratom is AKA-approved and backed by a 30-day money-back guarantee, so it's definitely something that can compete with even your favorite local store.